There are times when Microsoft makes me wonder. You develop this cool technology, ClearType, which helps reduce eyestrain, you put checkboxes all over the Remote desktop client allowing me to choose to use or not use it, you have it active in the shell... but then you casually ignore it and withhold it from me. What gives?
Oh, a KB article sheds some light:
The option to enable theFont smoothing feature is not available in the version of RDC that was released with Windows Server 2003. By default, Windows Server 2003 disables theFont smoothing feature in all remote connections. These connections include the connections that are established through RDC 6.0.
Happily, MS's dictatorship is matched only by its benevolence, because there's a "hotfix" available for this problem:
KB946633:The "Font smoothing" feature has no effect in Windows Server 2003 terminal sessions
It kinda cracks me up...
"We'll put the feature in."
"But it doesn't work. We should disable the checkboxes"
"Why would we do that?"
I bring this up because we just migrated a client over to a terminal server environment, and the number one complaint was "My fonts aren't fuzzy!"
Since I actually prefer the crispness of an LCD display, I didn't really notice, or care, but since I wasn't signing the check, I did my best to comply. I used bing to google the issue, and found the hotfix.
Of course, since it's a hotfix, it requires a reboot... so here I am at 5:30 AM, having just rebooted the server.
This hotfix is available via draconian download -- you fill out a form, they send an email with the link - however, they put the link in parentheses, so Outlook botches the conversion and breaks the link, resulting in the need for you to copy and paste the URL into your browser. From there, it's a Start > Next > Finish install and a reboot seals the deal.
As a side note: ClearType increases the bandwidth requirements, and is only available if you're running in "High Bandwidth" mode in the RDP 6.0 (or better) client. It also needs to be turned on in the desktop session.
In the RDP client: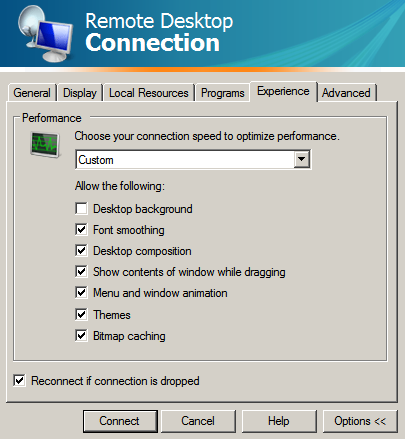 Click Options > Experience tab
The check off the "font smoothing" box.
On the Windows 2003 Desktop: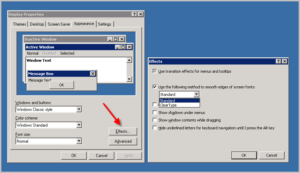 Right click on the desktop > Properties >Appearance tab > Effects button
That should do it!